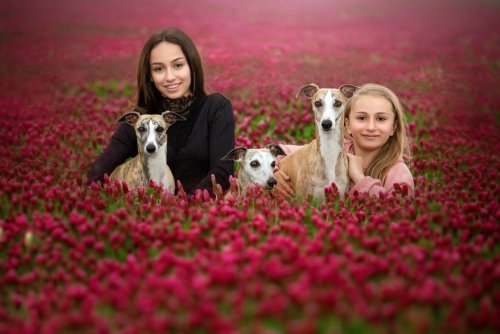 My name is Monika and except for being a photographer and a mom of two, I am also a passionate breeder of whippets (or greyhounds, if you will).
Back in 1983 it took only one look in the dog's eyes for me to fall in love unconditionally. Thanks to one single whippet started my own breeding station and started attending various competitions and shows with my own dogs.
All of a sudden the model of my photos was a beautiful dog, to whom you however cannot explain that he has to sit straight. With countless of fun stories from my photo shoots,
I could entertain you for hours. I soon got to understand what my dog really needs and that cold days can often be very challenging for him. I began the search for various garments but could not find anything that would fit him well.
As you certainly know, when a dog is strangled or bothered by his outfit while playing, he's not not gonna wear it. So I started sewing whippet garments on my own, and soon after also making collars, blankets and toys. At this point, I cannot tell what else I will be making for my beloved whippents... Today,
I am able to offer other whippet owners products their furry darlings will surely love. And a happy dog means a happy owner, doesn't? Zarya products stand for quality, functionality, but also style.
I test my products in the nature with my own dogs. They try them really hard which you can certainly imagine.
I handpick sustainable materials that are environmentally friendly and I use only recyclable packaging. Nature is after all what our dogs love the most, and that is why we must protect it.
My inspiration is my own dogs, and what energizes me are pictures of happy dogs in our garment, proudly wearing a collar or just resting in a lair from us. I deeply appreciate sharing your experience with me as well as your feedback because that brings me forward in my journey.